Earlier this year we posted that Chipotle was introducing a new tofu product called Sofritas, the first new product they've introduced in their 21-year history.  We're pleased to announce Sofritas is now available at Cincinnati area Chipotle restaurants as reported by the Cincinnati Enquirer. In addition, Chipotle has taken care to position their new tofu  product on the line so as to avoid getting meat ingredients mixed in.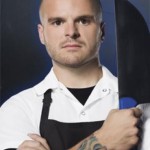 Sofritas is the creation of Nate Appleman, a James Beard award winner and top 3 finalist in The Next Iron Chef who now serves as Chipotle's culinary manager. The tofu used in Sofritas is hand-made by Hodo Soy of Oakland using only organic, non-GMO, US-grown, whole soybeans. The consistency is similar to ground beef and is mixed together with onions, tomatoes, peppers, chiles and spices.
Try it in your next burrito, taco or bowl!
Read More